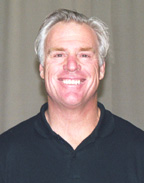 Dear Brothers and Sisters,

We as a Union have given our condolences to the family of Melinda Ohler. It was a powerful message that we sent to the family; that we felt their pain and the loss of their lovely daughter who died in the line of duty, protecting the citizens of San Francisco.

As a Union, we came together at the memorial service not because she was a woman, or from 42 Engine, or from Division 3. The simple fact is that she was a San Francisco firefighter who died doing her job.

Many thanks to our Chaplain, Father John Greene, who is always there for us. Thanks to Station 6 for helping with the caterer, to Station 42, the BOE, and to the United Fire Service Women. All of you did a fine job in an emotional time. Thank you.
As everyone is aware, budget cuts are upon us. There are many rumors out there on what will become of our staffing levels. Let me revert to the time I spent as a soldier, a General would ask us ... "what is your mission?" to which we would reply ... "our mission is to protect this area and that's our job". Our mission as firefighters and paramedics is to fight fires and save lives, which means that our chiefs, engines, trucks, rescue squads, ambulances and the BOE must be fully staffed to complete our mission. In the past 5 years of growth in the Fire Department, the number of firefighting companies in San Francisco have remained the same. We actually lost a division last year in budget cuts, yet our runs increase and our responsibilities have expanded. It's clear to me as your president that any cut in our fire suppression engines, trucks, BC's, AC's, rescue squads, ambulances and the BOE will have a devastating impact on how we fight fires and save lives. I don't want to be the person to tell a firefighter's widow, or a citizen of San Francisco, that we could have done better if only the Battalion Chief or Division Chief was there earlier to set up a rescue. Nor do I want to tell someone that we couldn't pull your family off the fire escape because the truck in your neighborhood was closed.

Some of our desk jockeys in the fire department, who haven't been firefighters before, crank out "worst case scenarios" for every occasion. You name it, they concoct ridiculous sermons involving outrageous responses that would require 5 doctors and 3 nurses on the scene before we could go to work. But the true fact is that firefighters and paramedics can and have done our job without the "worse case scenario group" developing policies and protocols for us. Lately, it has been easy to see where a new idea comes from in the Fire Department; desk jockeys who have taken some special class, taught only in Florida, relating to some aspect of the medical field. These individuals will crank out page after page, on city time, of the importance of this class or that medical skill. In reality, 99.6% of our runs are BLS and we have already done great jobs in "worse case scenarios" without the aid of unnecessary classes taught in Florida. Whether it was the earthquake, massive pier fires, a childbirth, or no power in the Muni railway tunnels, we've done our job well. We work as a team, yet every firefighter must be prepared as an individual for any situation. 9/11 made us realize that anything can happen. Our firefighters and paramedics in fire suppression are ready and willing to meet, and conquer, any emergency head on.

Dr Isaacs has stressed the importance of the Presidio staff of EMS chiefs to the Fire Commission. I would hope the good doctor would agree that competent firefighters and paramedics at the scene of an emergency within 5 minutes is far more important than a job) at the Presidio, behind a desk which didn't exist 5 years ago.

Our leaders in the SFFD must realize our role as firefighters and paramedics, and just as importantly, they must realize who pays our salaries. Ultimately the San Francisco taxpayer will stand behind the guys and gals in the field.

In the upcoming months, your Union will have the challenging role of educating San Franciscans about the job that firefighters and paramedics have in protecting our great city. The impending budget crisis will leave no City department spared, and we must ensure that our field staffing levels remain the same.

When the SFFD and the DPH merged seven years ago, the former heads of EMS, Rich Shortall and Russ McCallion, (both of whom have since stepped down from their leadership positions) stated the following:

... "This is a merger of equals and this merger will not impact the firefighters."

This merger has been anything but equal. Fire suppression units have remained the same for nearly 20 years. On the other hand, EMS management and desk positions have increased tenfold, creating a budgetary stranglehold.

The Fire Department must live up to Chief Shortall's statement. The Fire Department cannot put the citizens and firefighters at risk by cutting fire suppression units and paramedics, while leaving the huge Enron-type expansion of both the EMS and Fire Department headquarters. It's time to remove the bureaucratic bloat, and get back to our mission as firefighters and paramedics - the business of saving lives.