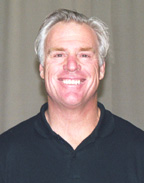 Dear Brothers and Sisters,

Welcome to 2004!

First off, I'd like to thank all the firefighters who helped out in the "Newsom for Mayor" and "Harris for Dis-trict Attorney" campaigns.


On Election Day we had 242 firefighters out at 5:00 a.m. working precincts, staying through until 8:00 that night when the polls closed. Just the week before, our Union put 174 firefighters on the streets to deliver literature for our candidate, and through house parties, we were able to raise the necessary funds for the campaign. Thank you for all your hard work and time away from your families. Special mention should be given to Tom O'Connor and Dan Dunnigan who spent much of their time organizing our campaigns.

All of us realize the importance of having a Mayor who respects the job we do, and who realizes that any cut reduces our effectiveness in saving lives and property.

I have been extremely satisfied in the way that out-going Mayor Brown has worked with the Union. In meetings with Mayor Brown, we were dealt with fairly. Sometimes there were disagreements, but that is the nature of each of our positions.

The Union has spoken with Mayor-Elect Newsom regarding our new Chief and our only request is that it will be someone who we can work with and who will not use this job as a stepping stone. This Union also wants someone who will be here to work. Part of the solution for our Department is that the new Chief listens to the concerns of the 1,800 men and women of our Union. If one were to analyze the concerns of the Administration and the Union we would discover that we are all on the same page - that being the safety of the citizens of San Francisco. Good luck to our new Chief, and the tip of the day for our new Chief is to keep the coffee cups for coffee, not for phony little award ceremonies!

With Mayor-Elect Newsom, we're entering a new frontier in San Francisco politics. Similar to JFK when he took office, the torch is being passed to a new generation, and we hope that the youthful zeal of our newly elected officials is passed on to our Fire Department. We look forward to working with Mayor-Elect Newsom in the toughest of economic times, to face the challenges within the Fire Department - promotional testing, the economics of the past merger, staffing issues, and our contract.

Be safe.
Fraternally,
John Hanley