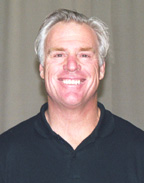 Dear Brothers and Sisters,

We congratulate Joanne Hayes-White on becoming Chief of Department. Chief Hayes-White has the skills and leadership qualities that have been severely lacking in this Department for so many years.

In just a short time since her appointment, you can see vast improvement in real-life scenario drills done at Treasure Island by our members there.

It's a difficult job that Chief Hayes-White has been promoted to because of the consistent lack of leadership and foresight that this Department had with our last chief. Yet, with her staff and her appointees there is quality leadership that will enhance and continue over fire and emergency services to the City of San Francisco.
We have started contract negotiations with the City. Your Union team negotiators are Moriarty, Kelly, O'Connor, and myself. We will be at the bargaining table to work out the best contract both for firefighters and for the City of San Francisco. As in the past, any changes to the MOU will be voted on by you, the Membership. You will have a vote to accept or reject any package that we bring back to you.

As most of you are aware, allegations have been made about unprofessional conduct at certain firehouses in San Francisco. Some of these allegations have allegedly come from within the Department. We as a Union stand strong with the Fire Department's position of zero tolerance on substance abuse. It's clear to me that those who are making these outlandish accusations to the Press, (some by anonymous sources and some not) are clearly not the same cut of cloth as the men and women with whom I open a peaked roof of a Victorian during the middle of the night or make an ocean rescue. These individuals should remove themselves from desk jobs and return to the field and join the espirit d'corp and comradery among firefighters at the firehouse. They should get their satisfaction out of doing a twenty-four hour shift in the firehouse, and going to fires and medical emergencies and return to the concept of "team". Gossip and outlandish statements made by a watchdog group with no substance have no standing in the Union we belong to.

Civil Service negotiations are on regarding promotions within the Fire Department. As you are aware, our last offer to Civil Service was Rule of 5 Scores for promotions with most of the City using 3 Scores. We felt that 5 Scores was an appropriate position yet the City and County of San Francisco would not accept this. At present, we are in the appeals process with the Appellate Court on the issue of promotions.

On a lighter note, the St. Patrick's Day Parade is set for Sunday, March 14, 2004. We'll see you at 11:30 a.m. at 2nd and Market Streets. A breakfast will be served prior to the parade. Call the Union office for details. We hope to see you there; this year, more than ever, it's important to stand strong and united.