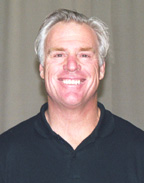 Dear Brothers and Sisters,

From the Executive Board to our Membership, let me wish you and your families a happy holiday season.

At the time of this writing, we are in another one of our budget battles. My feeling is that those who advocate for cuts in the Fire Department have no respect for the work that we do and are not concerned with our safety, or the safety of the residents of San Francisco. In a city like San Francisco, we can't continue to cut the Fire Department without drastic repercussions.
This is a city where the vast majority of our buildings are 75 years old; wood frame construction and minimal fire protection. Hills and strong wind conditions make San Francisco the most difficult city in America in which to fight fires. Those who wish to diminish our role in protecting the City in a polite way are not really aware of the conditions we face, nor are they fully educated in the various aspects of fire protection. Those of us, and I am one, who have been fortunate enough to have the next arriving Engine or Truck pull us out of a dangerous situation in a fire appreciate adequate staffing levels. Those who advocate closing companies have never been to "the dance", and should educate themselves before making outlandish statements.

How will those who advocate closing companies look themselves in the mirror when notified that we lost firefighters and citizens in a fire where companies were closed in the immediate area of the fire. That, brothers and sisters, is the reality of firehouse closures.

We must be very careful that the Fire Department does not just become a "photo op" for those that wish to use our reputation for their own gain. We must know the job, the dangers and risk, as well as what the citizens expect of the San Francisco Fire Department.

Be safe.

Fraternally,
John F. Hanley
President, Local 798