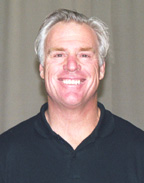 Brothers and Sisters:

Congratulations to Truck 11, Engine 36, Engine 21, Rescue 2, and Engine 11 for making numerous rescues at a Rest Home fire in The Mission. Truck 11 threw a 50-foot ladder and saved countless elderly people, many of whom were confined to wheelchairs. A job well done. Under extremely heavy smoke and hot conditions the men and women of the Union once again saved the lives of San Franciscans. Sometimes we are taken for granted but when we see these heroic actions and bravery no one can take that for granted.

Thanks to Father Green who has been very busy lately. We must never take for granted the work he does for the San Francisco Fire Department. The next time you see him be sure to thank him for all that he does for us.
Contract Negotiations are in full swing. A schedule of meetings is in this issue of the Mainline. We have addressed the issues reflected to us in the survey that was sent out earlier this year. Brothers Moriarty, Kelly, O'Connor, and myself are the negotiating team. Progress reports will be given at membership meetings.

Our involvement with the City and its cultural diversity is widely known. We start in January with the Martin Luther King Day Parade, then in February with the Chinese New Year's Parade, followed by the Cherry Blossom Events, this year we marched in the first Cesar Chavez Parade, then the St. Patrick's Day Parade, this month we will participate in the Gay Pride Parade, and in October the Columbus Day Parade. Our ambition as a Union is to embrace diversity and not leave anyone behind, which you can see by the Parades, the Toy Program, our work with AIDS and the elderly. We value our members cultural diversity with the same enthusiasm that we use to extend a line down a hallway filled with flames and smoke.

Congratulations to the brave men who retired out of Station 2. A job well done to Brothers Bob Arzave, Chris Diaz, and the moral barometer of Station 2 Tom Gibson, who organized an excellent banquet – over 400 attended.